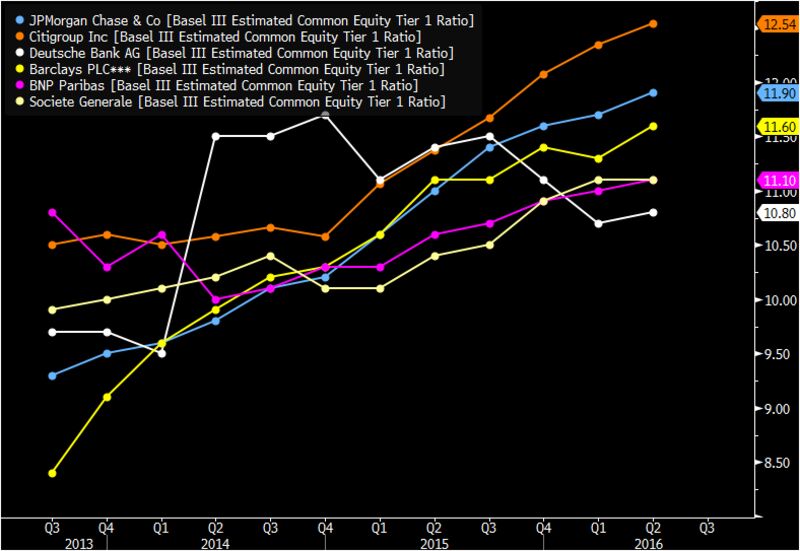 A jump in investment banking profits for the first quarter of the year had a positive impact on capital ratio figures for the largest U.S. banks – helping them increase their capital buffers to well above the fully phased-in levels they need to achieve by 2019. By the end of Q1 2017, Morgan Stanley strengthened its position as the best capitalized major bank in the world with a common equity tier 1 (CET1) figure of 16.6% – a good 660 basis points (6.6% points) above its 2019 target. In comparison, Bank of America's CET1 buffer is a modest 100 basis points (1% point).
That said, it must be remembered that the transitional CET1 figures for these banks are several percentage points higher than the fully phased-in figures shown in the table below, and all U.S. banking giants comfortably meet their current capital ratio requirements.
The figures at the end of Q1 2017 and the 2019 fully phased-in target compiled here are as reported by each of these banks in their latest 10-Q SEC filings.
The CET1 ratio is a key quantitative measure used by the Fed to approve or reject a bank's capital plans each year as a part of its Comprehensive Capital Analysis and Review – commonly known as the bank stress tests. A larger difference between the current and target CET1 ratios gives a bank more leeway in handing out cash to investors in the form of share repurchases and dividend hikes. With the Fed slated to release the results of the current cycle of its annual stress tests next month, the sizable capital buffers created by all banks should help most, if not all, of them announce an increase in their capital return plans.
We represent dividend payouts and share repurchases in our analysis of Bank of America in the form of an adjusted dividend payout rate, as shown in the chart below. You can understand how an increase in Bank of America's adjusted payout ratio affects its share value by making changes here.
View Interactive Institutional Research (Powered by Trefis):
Global Large Cap | U.S. Mid & Small Cap | European Large & Mid Cap
More Trefis Research
Like our charts? Embed them in your own posts using the Trefis WordPress Plugin.
["Source-ndtv"]