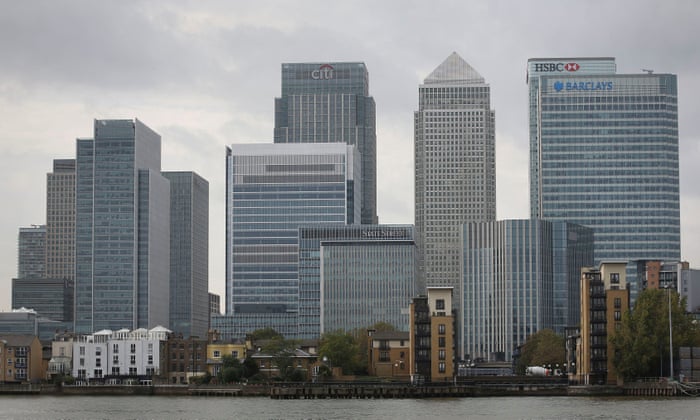 Canary Wharf on the Isle of Dogs in East London. Photograph: Philip Toscano/PA
Experts: UK construction is suffering from uncertainty
Let's get back to the slowdown in the UK building sector last month (see 9.36am for the data).
Mike Chappell, global corporates managing director for construction at Lloyds Bank Commercial Banking, says political uncertainty hurt the sector:
"This month's reading may not come as a surprise as the industry has grappled with the outcome of the general election, particularly civil engineering firms dependent on steady pipelines.

"The headwinds prompted by the EU referendum a year ago continue to challenge the sector. Input price inflation is still an issue and there remain concerns about how the UK's exit from the EU will affect construction firms, given their reliance on European labour.
Michael O'Shea, partner and construction specialist at law firm Gowling WLG, agrees that Theresa May's precarious grip on power is weighing on the sector:
"This data is entirely consistent with conversations we are having with construction companies across the spectrum. While house building continues to grow, there are significant issues around securing labour and the rising cost of materials.

"At this mid-point in the calendar year, construction firms will be taking stock of their order book for 2018. If this isn't in good shape – especially for those relying on major infrastructure projects – and the forecast looks less than positive, it will dampen confidence. To combat this, the government must take decisive action on such projects, including the nuclear sector. However, with the spectre of another general election still looming, there is an unhelpful amount of uncertainty in the market at present."
Paul Trigg, construction specialist and assistant head of risk underwriting at Euler Hermes, fears that builders will struggle to find workers after Brexit:
"Migrant workers are the lifeblood of the sector and while the plan to provide more than three million EU citizens permanent residence is a good start, the ongoing movement of labour within the bloc is still a huge issue. Its loss will have a profound impact across the industry's supply chain and profitability, so it's unsurprising to see construction businesses urging the government to secure a transition deal with the EU at the very least.
Chris Williamson of Markit, which produced the report, flags up that confidence among builders is down — matching a similar fall among manufacturing bosses yesterday.