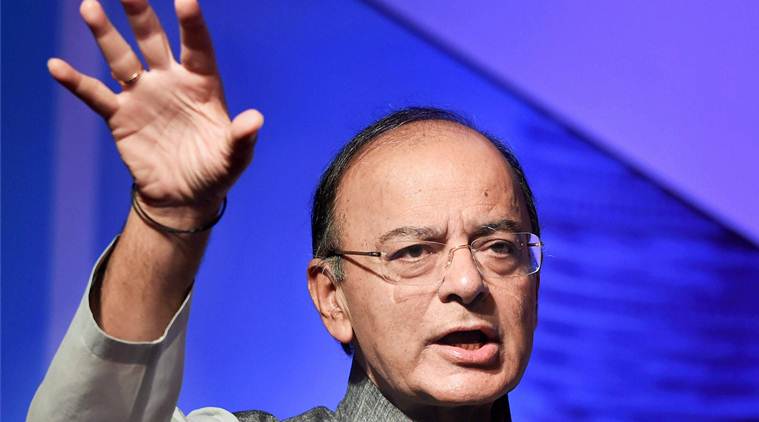 Finance Minister Arun Jaitley has said the experience with consolidation has been positive so far — the merger of SBI's subsidiaries with SBI has boosted the commercial strength of the entity and its ability to absorb market shocks.(PTI Photo)
Just weeks after the Union Cabinet approved a framework to oversee proposals for the merger of banks, the Finance Ministry has written to state-owned banks, asking them to start looking at the possibility of consolidation, including discussions at the board level. Senior bankers who confirmed having received the ministry's communication, said most banks were yet to even start the process of identifying potential lenders with whom a merger could be considered based on geographical reach, branch network or franchise, loan portfolio, deposit spread, and other synergies.
The consolidation proposal comes against the backdrop of a deterioration in the performance of many of these banks, which are saddled with bad loans — mostly on account of lending to big infrastructure firms whose large projects have suffered as a result of the slowdown. According to credit rating agency ICRA, gross non-performing assets (NPAs) of 41 listed banks had grown to Rs 8,28,000 crore (10.4% of total loans) on June 30, 2017, from Rs 7,65,000 crore this March.
The rising bad loans have underlined a growing need for huge capital infusion. The government had indicated earlier that it would provide Rs 70,000 crore as capital for these banks over four years. Rating agency Fitch has warned that with stress in sectors such as power and SMEs, and with farm loan waivers, banks would need $ 65 billion (over Rs 4,22,000 crore) in additional capital to meet global norms on capital by March 2019. Of this, state-run banks will need 90%.
The government and Reserve Bank of India now appear to have concluded that a consolidation — marked by fewer state-run banks — would be better than several weak banks. But the top managements of banks are reluctant, given their functioning as independent entities with different work cultures for decades, said a prominent banker. The government and RBI representatives on the boards of PSU banks may have to push the merger agenda. And given the state of their balance sheets, banks like IDBI or IOB may find it difficult to attract good suitors unless the government pressures stronger banks, said another banker.
The government is the dominant shareholder in 20 banks, not including the State Bank of India, the country's largest lender. Finance Minister Arun Jaitley has said the experience with consolidation has been positive so far — the merger of SBI's subsidiaries with SBI has boosted the commercial strength of the entity and its ability to absorb market shocks.
On August 23, after the cabinet cleared the constitution of an alternate mechanism to oversee merger proposals, Jaitley had said that if any state-owned bank came up with a consolidation proposal, the mechanism would grant in-principle approval. This essentially meant cabinet approval for proposed mergers of listed banks.
Earlier this year, RBI Governor Urjit Patel had said that the system would be better off with fewer but healthier banks — a view that his deputy, Viral Acharya, has echoed in recent meetings. Patel has said that banks should bear the burden of recapitalisation themselves, rather than relying on the government. While outlining options for banks, Acharya has suggested that some banks could be merged as a quid pro quo for timely government injection of capital into the combined entity. Such a move could offer an opportunity to rejig the management away from those who underperformed the most, synergise lending activities and branch locations to economise, and allow sale of real estate where branches are redundant. A Voluntary Separation Scheme could be offered to manage headcount and usher in digitally savvy staff, he has said.
The move towards consolidation may also have been prompted by the fact that several state-run banks are now under what the RBI calls Prompt Corrective Action, or PCR — which implies restrictions on both growing deposits and lending. Putting some of these banks back on track would mean more infusion of capital by the government, or money from taxpayers without any returns on such funds for quite some time.
Jaitley had earlier said that the decision on creating strong and competitive banks would be based solely on commercial considerations. However, many bankers are not sure whether some of the weak banks would be nudged to merge with their bigger peers. Both current and former regulators have flagged the dangers of merging stronger banks with weaker ones. Former Governors Raghuram Rajan and Y V Reddy have said in the past that such an approach would prove to be a drag; Deputy Governor Acharya said recently that his personal view was that merging strong banks with weaker entities sometimes leads to weakening the stronger entity. If consolidation was the objective, he said, it would be better to merge healthy banks with each other.
Early in the term of the first UPA government, an attempt was made to push consolidation of state-owned banks. The attempt was abandoned; instead, some weaker private banks were merged with other private banks. According to Reddy, while P Chidambaram as finance minister was inclined towards consolidation in public sector banks as a route to efficiency, he, as Governor, felt that the problems in public sector banking had more to do with the structure of governance and political economy than with size.
Recently, 10 lakh bank employees struck work to protest the government's consolidation plan. A better picture of the health of banks will be available after the earnings for the quarter to September are announced.
["Source-indianexpress"]