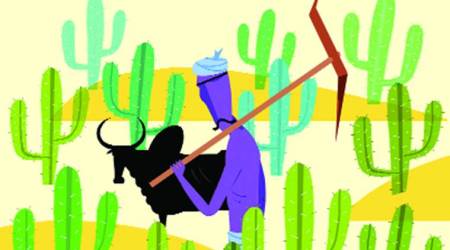 To bring a larger number of farmers within the ambit of institutional crop loan credit, the Maharashtra government has roped in national and commercial banks to tie up with district cooperative banks, which have lower liquidity, ahead of the kharif season commencing July-August 2017.
At least 12 banks out of the total 36 Central District Cooperative Banks with poor liquidity have been shortlisted to tie up with national and commercial banks to give them a footboard in rural areas. The government believes this would give farmers easy access to crop loans.
Chief Minister Devendra Fadnavis convened a meeting of the bankers association to evolve a mechanism where national and commercial banks with higher capital, and district cooperative banks with poor finances can penetrate rural Maharashtra. The model has a twin objective of providing farmers greater access to financial institutions in remote villages.
The chief minister has formed a committee comprising bank officials of both national and district cooperative banks and representatives from NABARD and the state government to work out a formula within ten days.
The crop loan projection for year 2017-18 is Rs 58,862 crore which is higher than Rs 51,235 crore in 2016-17.
According to Fadnavis, "Of the total 1.36 crore farmers in Maharashtra, 31 lakh are debt ridden since 2012. Whereas, there are at least 1.10 crore farmers who avail loan and regularly make loan repayments."
Indicating that a committee has already been constituted to work out a formula to bring these debt-ridden farmers within the institutional credit loan bracket, he said, "The concept of a total loan waiver was a myth and was never enforced by any government across the state or country."
"Today, what we are discussing is a loan waiver for 31 lakh farmers which is worth Rs 30,500 crore. If we were to consider loan for all farmers across Maharashtra it would work out to Rs 1.34 lakh crore, which surpasses the state budget," he said.
"During the UPA government, when the highest loan waiver of Rs 71,000 crore was given for the entire country, Maharashtra received only Rs 7,000 crore," he said. The state government has already invested more than Rs 8000 crore towards drought relief and rehabilitation and the total investment in the agriculture sector is Rs 26,000 crore.
In 2016-17, a total loan of Rs 51,235 crore benefited 52 lakh farmers. The loans disbursed through national banks was Rs 26,470 crore, private banks Rs 4,126 crore, rural banks Rs 3,044 crore, district central cooperative banks Rs 17,548 crore and others Rs 44 crore. Compared to 2014, crop loans disbursed in 2016 show an enhanced allocation of Rs 7,942 crore, benefiting an additional 7.66 lakh farmers.
At the 135th state level bankers committee (SLBC) meeting, Fadnavis approved Rs 54,220 crore as credit plan for 2017-18, and a term loan of Rs 23,000 crore. The crop loan is Rs 3,500 crore more than last year. He directed financial institutions to focus on distressed districts to ensure optimum crop loan disbursement to farmers.
National and commercial banks tying up with district cooperative banks can provide greater access to farmers.
National banks have more capital but poor network, infrastructure and manpower in rural areas. District cooperative banks have robust infrastructure and manpower with farmers depending on them for crop loans. But over the years, at least 12 district cooperative banks have been facing low liquidity.
["Source-ndtv"]