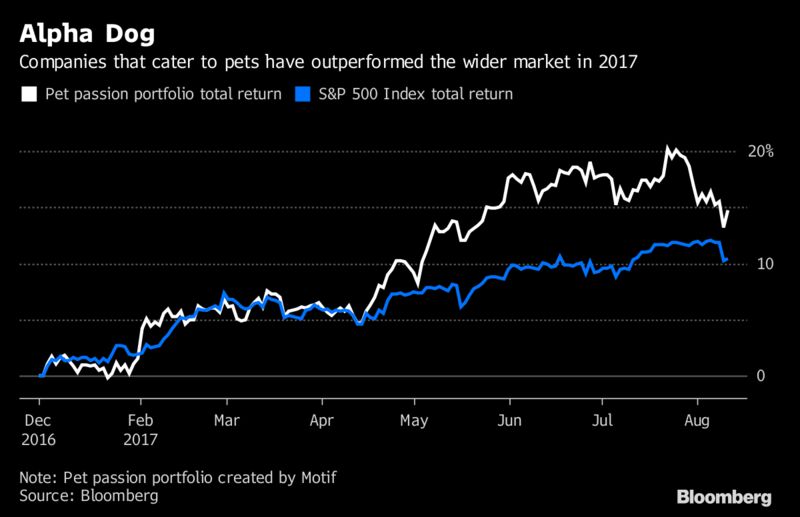 The Pet Passion index, a tracker created by Motif Investing that follows pet-related companies.
These stocks are no dogs. With Americans spending like never before on their animal companions, stock watchers have been betting on big returns from pet stocks.
The Pet Passion index, a tracker created by Motif Investing that follows pet-related companies, has returned 19 per cent over the past year as of Thursday's stock-market close, sprinting well ahead of the rest of the stock-market pack. The S&P 500 Index has only marked an 8.5 per cent gain so far this year.
Among the best in show is pet pharmacy PetMed Express Inc, which has seen its shares nearly double over the past year. Trupanion Inc, which offers pet health insurance, is up about 44 per cent in that span, while IDEXX Laboratories, a veterinary diagnostics company, has gained about 30 per cent.
An improving economy has encouraged pet adoptions and loosened up the wallets of people who already have one, analysts say. Another factor: Younger Americans are putting off having kids but are making room for a dog or a cat."Americans sometimes take care of their pets better than they take care of their own health," said Mark Massaro, an analyst at Canaccord Genuity Inc " Americans just love their pets."
Pet-related spending in the U.S. is estimated to exceed $69 billion this year, up from about $60 billion in 2015 and nearly double its level in 2005, says the American Pets Products Association, an industry trade association. About 90 per cent of the estimated 2017 spending is on food, supplies and pet health care.
Walking a friend's dog through Central Park on a recent Wednesday, Lisa Alonso Vear, 39, of Brooklyn, quickly whipped out her smartphone to show pictures of her 12-year-old dachshund, Rochester, the way a young mother would normally show off her newborn.
Vear works at an animal hospital in Brooklyn and said she's seen an uptick in vet visits -especially routine checkups -when the economy is strong. "You're going to spend money on yourself, but people care a lot about their pets and care for them and make sure they're healthy," she said.
About three in five millennials own pets, according to APPA research, compared to about 50 per cent of the general population. Meanwhile, birthrates among women in their 20s have dropped more than 15 per cent, according to the most recent data from the Urban Institute, a Washington-based think tank.
["Source-economictimes"]