(Bloomberg) — Politics dominated markets on Monday, with risk appetite withering in Europe as Italy lurched toward fresh elections. The region's shares and currency reversed early gains, while U.S. equity futures pared a jump even as the America-North Korea summit appeared to be back on track.
Most national gauges in Europe turned lower led by Italy's benchmark, which plunged as populist leaders pulled the plug on their attempt to form a government and the country headed for new elections as early as the fall. The nation's bonds also tumbled. S&P 500 futures, which jumped earlier alongside South Korean stocks, were fractionally stronger in muted trading — it's a holiday in both the U.S. and U.K. Oil losses deepened after Saudi Arabia and Russia said they are discussing reviving output.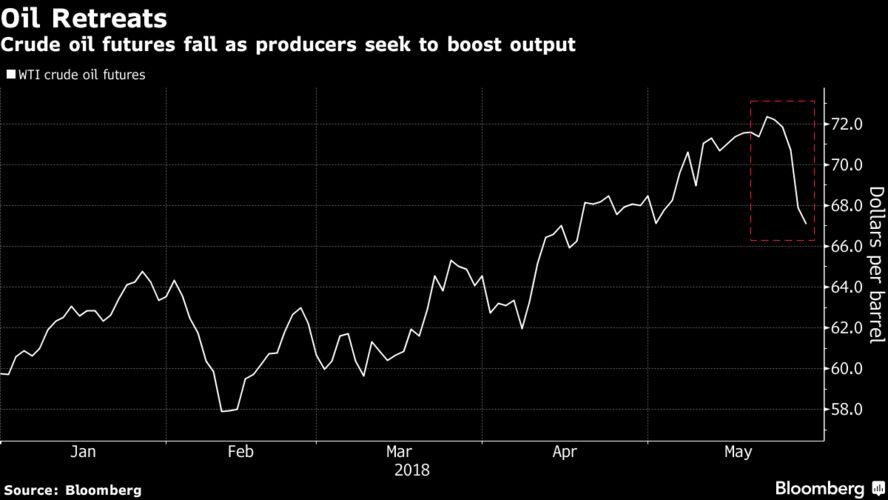 It had looked like a positive start to the week for global equities following a tumultuous few days, but investor concerns were never far away. U.S. negotiations with North Korea have proved unpredictable, and while the failure of populist leaders to form a government in Italy removes a threat to the euro area for now, it raises the prospect they will cement their power in a follow-up ballot.
"We may now be in for an extended period of heightened uncertainty ahead of fresh elections," said Ray Attrill, head of foreign-exchange strategy at National Australia Bank Ltd. in Sydney.
Elsewhere, emerging-market stocks struggled to hold a gain as the dollar rose, while developing currencies erased an advance. The lira was the stand out performer, rallying after the central bank took steps to simplify its monetary policy. Gold fell.
Terminal users can read more in Bloomberg's Markets Live blog.
These are some key events to watch this week:
European Union foreign ministers meet in Brussels Monday to discuss developments related to North Korea, Yemen, and the Iran nuclear deal.
EU trade chief Cecilia Malmstrom and U.S. Commerce Secretary Wilbur Ross are scheduled to meet Wednesday in an informal World Trade Organization ministerial in Paris.
The U.S. employment report for May is due Friday. It's the last before the June Fed meeting.
Automakers report May U.S. sales the same day.
Also Friday: China's stock market joins MSCI Inc.'s global indexes.
On Saturday U.S. Secretary of Commerce Wilbur Ross will travel to Beijing for more talks with Vice Premier Liu He on topics including ZTE Corp. and trade.
These are the main moves in markets:
The Stoxx Europe 600 Index dipped 0.3 percent as of 3:28 p.m. London time, to the lowest in three weeks.
Futures on the S&P 500 Index climbed 0.1 percent.
The MSCI Asia Pacific Index advanced 0.1 percent, the largest gain in more than a week.
Germany's DAX Index sank 0.5 percent.
The MSCI Emerging Market Index gained 0.1 percent.
The Bloomberg Dollar Spot Index climbed 0.1 percent to the highest in more than five months.
The euro dipped 0.2 percent to $1.1626, the weakest in almost seven months.
The British pound declined less than 0.05 percent to $1.3303, the weakest in about six months.
The Japanese yen advanced 0.1 percent to 109.33 per dollar.
The Turkish lira increased 2.5 percent to 4.5999 per dollar, the biggest climb in more than 16 months.
Germany's 10-year yield declined five basis points to 0.35 percent, the lowest in more than five months.
Italy's 10-year yield increased 21 basis points to 2.667 percent, the highest in almost four years on the largest increase in more than two years.
West Texas Intermediate crude decreased 1.9 percent to $66.58 a barrel, reaching the lowest in almost six weeks on its fifth consecutive decline.
Gold declined 0.2 percent to $1,298.65 an ounce, the largest drop in almost two weeks.
Brent crude fell 1.3 percent to $75.48 a barrel, the lowest in almost three weeks.
["Source-bloombergquint"]